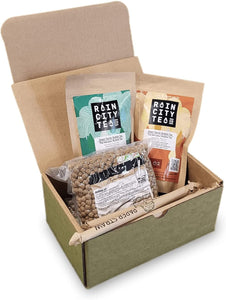 Bubble Tea Gift Set - Collaboration - 20 Servings
Best Seller
Regular price $39.99 Sale
Do you have someone in your life that just loves bubble tea? (Is that someone in your life you?!) Well, this is for you. It's the perfect little set that features the best of both worlds, premium organic tea, caramel chewy tapioca and chunky compostable paper straws!
Gift Set Contents:
100g Organic Black Tea for Bubble Tea
100g Organic Green Tea for Bubble Tea
600g Caramel Tapioca Pearls
20 x Chunky Compostable Straws
This little set gives you the core, you can sweeten to taste, add milk, non-dairy beverages, etc. you have total flexibility to make your own recipes with super top quality core ingredients. 
Bubble Tea House Co. was established in the UK in 2010. They supply top Bubble Tea shops and chains around the World and we have now teamed up with them to create extraordinary Bubble Tea gift sets! 
We are super excited about this collab and can't wait for you to try Bubble Tea at home. 
Be sure to watch Bubble Tea House Co.'s video to see how best to cook the tapioca and follow the cooking instructions very closely. Cooking Tapioca requires practice, that's why the kit has 600g, that's a lot of tapioca! You have a little bit of room there for some testing.